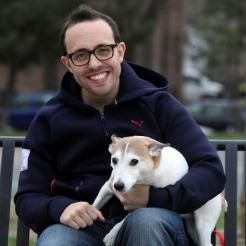 Who Gets the dog when couples split?
In New York State, as in most others, pets are generally considered to be property, and are treated as such.  This means that in the course of a divorce, the pet is valued and split between the parties in Equitable Distribution.
But what does that mean?  In plain English, there won't be any doggy visitation schedule set down.
The dog will go to one of the parties, or it will be sold and the proceeds of the sale split between the parties.  If the dog was an adorable mutt rescued by the ASPCA and adopted by the formerly happy couple, there probably will not be much value to be split.  If the little doggie is a purebreed, or maybe a Spudz McKenzie, the dog could be worth a considerable sum! In these cases, the dog must be valued, and if one party is going to keep the dog, that party must buy out the other party's interest in the dog. So if Spot is worth $20,000.00, and Molly is going to keep Spot, Molly is going to have to cough up $10,000.00 to Fred in the course of the divorce (assuming there is no reason to unequally split the value of Spot).
The same holds true for the award winning Gila Monster, the Siamese Cat, and even Joe the Gerbil. But the reality of the situation is that the Courts don't put much of a value on pets, with the exception of extraordinary circumstances. And if a party wants to value a pet, and the other party does not agree with that value, an expert will have to be retained to testify as to the value of the animal. Now, if the pet means so much that the issue of who gets to keep the pet goes to a trial, I can tell you from experience that judges HATE these types of issues and will do just about ANYTHING to get out of sitting through a Hearing about how much you love Fluffy and your soon-to-be-ex refused to do the kitty litter.
As usually holds true in a divorce situation, attempting to settle the matter between the parties is the best course of action for all involved.  Though Judges are bound to hear all the testimony, and review all the evidence about who should get Fido (and I am sure Judges do their level best to make the decision the he or she feels is right), the Judge could be going back into chambers and flipping a coin for all I know!  Why risk it?  Make and agreement and settle the issue yourselves.